FR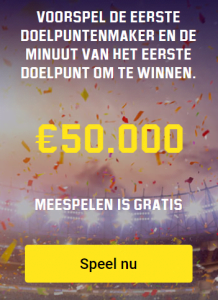 Mega Champions League-Promo
Ben je een echte voetballiefhebber en heb je het geluk aan je zijde? Wij bij Belgische casino's hebben dé wedstrijd voor je klaarstaan. De clash tussen Bayern München en Real Madrid in de halve finale van de Champions League staat voor de deur.  Hou je vast want bij Unibet zijn ze van plan een knotsgekke prijs weg te geven :
Voor de wedstrijd Bayern München vs Real Madrid is er een jackpotprijs van 50.000€ voor de deelnemer(s) die de correcte doelpuntenmaker en de minuut van het eerste doelpunt voorspellen.
Gratis deelname voor iedereen!
Scoort Ronaldo z'n 16e goal of schiet Lewandowski z'n 6e tegen de netten ? Enkel jij kan dankzij Unibet U-goal de spanning en sensatie vanop de eerste rij meemaken en met die mega-promo aan de haal gaan.
Bal der kampioenen
Waag je kans en laat je maats zien dat er op jouw kennis en kunde geen maat staat. Wat hoef je te doen? Het is nog nooit zo simpel geweest. We leggen even uit hoe je meespeelt:
Log in op je Unibet account of  maak gratis een account aan.
Ga naar sportpromoties waar het kampioenenspel op je wacht.
Deze mega-promo schiet altijd raak. Word jij de held van het kampioenenbal? De 50.000€ ligt op je te wachten zoals een doelman wacht op dat ultieme schot. Doe nu mee met de Unibet U-goal predictor.
Deze promotie is onderworpen aan voorwaarden. Bekijk deze grondig op Unibet U-goal .