FR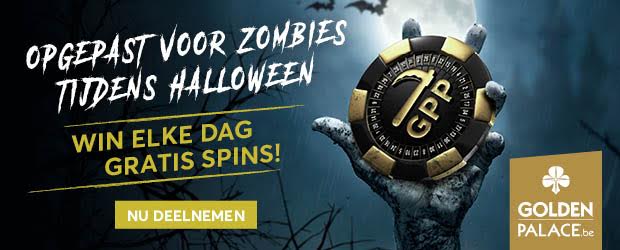 Bij GoldenPalace.be kan je met de Halloween-promotie gedurende 2 weken elke dag Gratis Spins verdien, simpelweg door te spelen!
Je kan je free spins makkelijk verkrijgen door elke dag gewoon te spelen bij Golden Palace en zo Golden Palace Points (of GPP) te verdienen. Je kan deze punten verdienen door op je favoriete casino spellen te spelen bij Golden Palace. Hoe meer GPP je binnen haalt, hoe meer free spins je krijgt!
Met de verdiende Golden Palace Points krijg je gratis spins op 2 van hun populairste dice games: "Ghosts and Graves" & "Creepy Cash". Zeer toepasselijke spellen in deze angstaanjagende dagen van Halloween…
Schrijf je in en speel mee!
Om jouw free spins te verdienen, moet je je eerst en vooral inschrijven voor deze promotie. Dat doe je HIER door in te loggen en je deelname te bevestigen.
De promotie loopt vanaf morgen, maandag 17 oktober 2016 tot en met zondag 30 oktober 2016. Elke dag van deze periode kan je GPP verdienen, waarop je de volgende dag jouw gratis spins toegekend krijgt.
Dit kan je verdienen:
10 GPP verdiend: 5 Free Spins van €0,25 op Creepy Cash
35 GPP verdiend: 10 Free Spins van €0,50 op Creepy Cash
100 GPP verdiend: 20 Free Spins van €1 op Ghosts and Graves
200 GPP verdiend: 45 Free Spins van €1 op Ghosts and Graves
200 Extra Gratis Spins te verdienen!
Indien je loyaliteitsniveau op maandag 31 oktober hoger is dan bij de start van deze promotie, ontvang je een bonusaantal gratis spins gelijk aan het totale aantal gratis spins dat je verdiende in de twee weken daarvoor, tot 200 extra gratis spins!
Deelnemende spelers met het niveau Gold 3 zijn automatisch geplaatst voor deze bonus.

Deze promotie is onderworpen aan voorwaarden. Bekijk deze grondig op GoldenPalace.be.