FR
Ontdek en win Mystery Bonussen tot €500
Ben je al vertrouwd met de 21e van de maand bij 777.be? Als het nog niet zo was dan laten wij bij Belgische casino's.be  je nu kennismaken met deze wonderlijke week vol Mystery en Bonussen. Bonussen tot €250 of € 500 euro vallen niet zomaar uit de lucht. 777.be laat je deelnemen aan een zeer leuk woordspel waarbij de slotmachines van 777.be centraal staan. Lukt het je om alle verborgen namen van slotmachines te ontcijferen op het onderstaande woordzoekerbord? Je wordt alleen maar Happy deze week.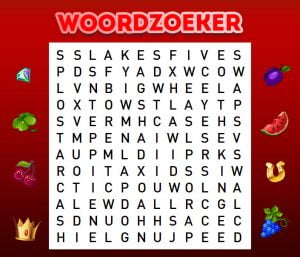 * Hoe werkt zo'n woordzoeker?  Het is zo makkelijk dat je bijna over de woorden struikelt. Je kan verticaal, horizontaal of diagonaal woorden proberen te vormen.
* Vind je zo'n slotmachine-naam, surf dan als de bliksem naar de KASSA, maak een storting van gelijk welk bedrag en laat zien dat je het correcte antwoord weet. Schrijf dit antwoord volledig uit in de reward sectie van je bonusaccount.
* Hoewel 777.be tal van leuke slotmachines heeft is de opdracht verre van onmogelijk. Surf naar hartenlust op de site en wie weet ontdek je wel een nieuwe, leuke slot spelen tijdens je zoektocht.
Help, de dag is bijna om !
Als je het woord niet gevonden hebt, treur dan niet. Bij 777.be hebben ze deze knotsgekke woordzoeker maar liefst 7 dagen voor je klaarstaan. Geef elke dag een nieuwe naam van een slotmachine om zo veel mogelijk bonussen te ontgrendelen.
Aarzel dus niet langer en doe NU mee.
De Happy Week Mystery Bonussen zijn onderworpen aan voorwaarden. Surf even naar 777.be om ze te bekijken.