FR
Elke dag prijs met het Paasrad van Napoleongames.be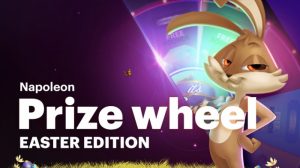 Pasen is in aantocht en Napoleon Sports & Casino laat de Paasklokken een  ganse maand luiden. Elke dag mag jij als speler aan het Paasrad draaien. Naast de vele prijzen die er te winnen zijn doe je ook mee voor de gigantische Jackpot.
Hoe doe je mee?
Log in bij Napoleon Sports & Casino of maak een account.
Zet een bedrag in op

online

Casino of Dice spellen.
Speel elke actiedag van 01/04/19 tot 03/05/19 prijzenwielen vrij door een bedrag in te zetten.
Naargelang je loyaliteit speel je mee voor een Jackpot tot €25.000
Wat zijn de prijzen?
Bonusgeld
Free Rounds
Wheel Up: de speler krijgt eenmalig toegang tot het wiel van het volgende loyaliteitniveau .
Cash geld
Jackpot Punten
De Paaseieren vliegen je om de oren
Het Paasfeest is in volle bloei en in deze heuglijke periode is er niets leuker dan spelen op je favoriete online gokkasten. De spellen die jou het best liggen, brengen naast Cash ook leuke Bonussen op. Je krijgt namelijk te gekke prijzen en een kans op de Jackpot van €25.000. Hoeveel eieren de Paashaas dit jaar in jouw mandje legt weten we niet, maar dankzij Napoleon Sports & Casino weten we dat ze puur goud zijn.

Dit Jackpot Paasrad is onderworpen aan voorwaarden. Lees ze aandachtig op Napoleongames.be