FR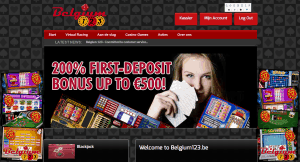 Belgium123 is één van de nieuwste online speelhallen in België, maar wat vind jij eigenlijk van Belgium123.be?
Vanuit verschillende hoeken komen er vreemde geruchten over Belgium123. Bepaalde mensen ervaren problemen met uitbetalingen, problemen met bepaalde spellen en vreemde handhavingen van de bonusvoorwaarden.
Tijd dus voor een rondvraag! Heb jij al gespeeld op Belgium123.be? Wat vond jij ervan? Heb jij problemen gehad tijdens het spelen op deze speelhal? Of bij het uitbetalen van je winst?
Wij willen dus graag jouw mening horen over Belgium123! Post hieronder jouw ervaring of stuur het ons door via e-mail op belgium123@belgischecasinos.be !
Ondetussen raden we dus voorzichtigheid aan voor wie zich inschrijft bij Belgium123.
Bedankt!